I just moved to Saint Paul from Montana via Italy and  California and Oregon.  In the past year I've accumulated five! addresses.  I set out to change my life at the start of the year and little did I know that I would be living again near the Canadian border.  I thought I would be in California forever.  I will miss California this winter, I know, but I moved to Saint Paul with the love of my life, a man I've known for 17 years, since the "Freshman 15" of 1996 at Montana State University.  I've always loved this dear friend of mine, but now I get to be in love with him.  It gets better every day.
Moving is always like an anthropological process.  You touch most everything you own, and decide:  do I keep it?  Or, do I give it away?  You can re-invest in your things or start over with a new identity.   You can recall those phases of life, good and bad decisions, the trends, your geographical location and let the nostalgia set you into a sigh or a string of giggles.  Over the past five months, I had been living out of a suitcase or my car.   I had a roof over my head, but all my necessary possessions, including my cat, fit into my car.  So moving to Oregon for love, then to Saint Paul, was so easy.  I was really free.  When I was reunited with my boxes of books and shoes and clothes in Montana, it was like Christmas.  Lots of new things, lots of stuff.  My stuff.
I come from a long line of lipstick ladies.  My mom has always had quite the collection.  A few years ago I asked my sister to borrow some lip gloss.  Her cosmetic bag was full of nude pink lip glosses from many different brands.  I definitely felt the sibling connection in that moment.  I'm not the only one on the quest for the perfect pink lip gloss.  My purse weighs more than it should given the number of lipsticks I sling over my shoulder.
So my rule is:  if anything new comes in, something has to go out.  Good thing Anthropologie is so close to my house.  I love just looking.  I'm not buying clothes at the moment, but I decided to splurge on a new lipstick, an easy trade.   I know I have probably five or more red lipsticks in my bathroom, but sometimes it's the packaging or the applicator, or even the new red shade that justifies another lipstick in my life.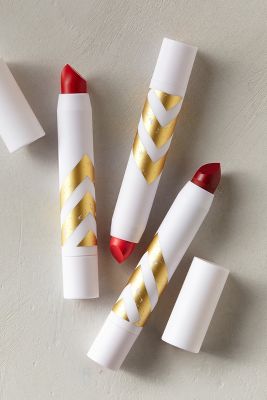 Lucky for me, this is no wimpy lipstick.  Albeit Matte Styo Stick in Scarlet is a creamy, semi-matte red, with a healthy hint of orange, and it lasts and lasts.  I skip the blush when I wear it because it brings out the pink already in my cheeks.    I think mixing this with a gloss would give that desired I-just-ate-a-cherry-popsicle red stain that I crave.  The Persimmon was too orange.  The Red Velvet was too similar to some other shades I already own.  The Scarlet was perfect, right in the middle between the the other two.   I'll be layering this with autumnal boots and sweaters.  Classic.